Podcasts that will take your business to the next level.
Did you know that approximately 40 million people use podcasts for inspiration, education, motivation and pure entertainment (or in my case) distraction every single week?
Podcasts have been one of the best things for my mental health, my business, my photography inspiration, and my overall entertainment for the last few years. I LOVE listening to Podcasts. I walk my dog every day, I drive my kids all over the planet earth, and I am cleaning, folding, editing, etc. etc. etc. and during all of those times, I almost always have one of the following 23 podcasts playing. I would love to hear your favorites in the comments to add to my list though!
These are in the order that they were listed on my Podcast Library, so not necessarily listed in any special order:
Rise Podcast HOSTED BY RACHEL HOLLIS RISE is a podcast hosted by Mogul CEO Rachel Hollis. A bold conversation with fellow business powerhouses that provides the listener with real-life tangible takeaways.
Recent episode topics include:
The Hard Things That Will Throw You Off Course (and how to fight them)
How to Find Your Calling with Lewis Howes
The Most Important Things I do Every Year
The Science of Social Media is your weekly sandbox for social media stories, insights, experimentation, and inspiration. Every Monday (and sometimes more) hosts Brian Peters and Hailley Griffis share the most cutting-edge social media marketing strategies from brands and influencers in every industry. If you're a social media team of one, business owner, marketer, growth strategist, community manager, or part of an emerging online brand, you're sure to find something actionable in each episode.
Recent episode topics include:
6 Powerful Psychological Biases and How They Influence Human Behavior
The Most In-Demand Skills of 2019
5 Data Backed Social Media Marketing Trends for 2019
Learn the business strategies that will lead you to success. We have articles, eBooks, courses and podcasts about any topic you'd like to learn - pricing, marketing, selling, productivity and more.
Recent episode topics include:
The Importance of Selling Products
How to Succeed in Times of Change
Grow Your Business with LinkedIn
If you're frustrated because you struggle to get the word out about your product or service, the Building a StoryBrand podcast will help. Fans of the podcast are ecstatic about the fun and entertaining way Donald Miller brings you practical advice about clarifying your message so customers will listen.
Recent episode topics include:
Practical tips that will help you conduct more meaningful interviews
How to Know what your customers are thinking
Why People Buy: The powerful science of selling
Amy Porterfield is well known in the world of entrepreneurship and marketing. In this podcast, she pulls back the curtain to give substantive answers to questions like:
How do I start an online business?
How do I grow my email list to thousands of subscribers?
How do I sell more and grow faster?
A lot of these episodes are mini marketing masterclasses and guides, helping you to take immediate action and implement effective strategies into your marketing.
Recent episode topics include:
Instagram Growth and Effective Social Media Marketing
How to Win at Brand Deals
How to become an Influencer
The Influencer Podcast is an innovative podcast that explores the secrets behind the ever-changing trends of influencer marketing and the careers of today's top social influencers. Hosted by marketing strategist, New York Times best-selling publicist and influencer Julie Solomon, Julie and guests join in the conversation to share how they engage, persuade and grow their unique influence, and how their work impacts the influencer industry.
Recent episode topics include:
Instagram Growth and Effective Social Media Marketing
How to Win at Brand Deals
How to become an Influencer
Jenna Kutcher hosts the Goal Digger podcasts, and fills every weekly episode with tips, strategies, and hacks to excel in business, social marketing, making money online, and even designing your dream career.
Some interviews include Amy Porterfield, Jamie Ivey, Melyssa Griffen, Lori Hader, Cathy Heller, and many more. While her podcast focuses on women entrepreneurs, the tips and strategies she and her guests share are valuable to anyone and everyone who has a hand in growing a brand.
Recent episode topics include:
Authentic Social Media
What you REALLY need to know about Email Lists
Creating an Unforgettable Brand
Neil Patel and Eric Siu bring you daily ACTIONABLE digital marketing lessons that they've learned through years of being in the trenches. Whether you have a new website or an established business, learn the latest SEO, content marketing, social media, email marketing, conversion optimization and general online marketing tactics that work today.
Recent episode topics include:
How to make your content go as far as it can
How to Control Your Page 1 on Oogle
7 Facebook Ad Hacks that'll crush it in 2019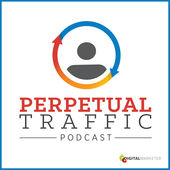 Equal parts strategic and entertaining, Perpetual Traffic provides an inside look at how today's top marketers are acquiring leads, conversions, and sales through paid traffic. What makes Perpetual Traffic stand out? It's more tactical than most of the other top 2018 business podcasts.
Listeners learn digital marketing strategies they can immediately begin employing to lower cost per acquisition (CPA), increase email click-through rates and maximize Facebook ad campaigns. The weekly podcast is produced by Digital Marketer and hosted by Keith Krance, Ralph Burns (Dominate Web Media) and Molly Pittman (Digital Marketer).
Beyond sharing their practiced knowledge, the trio often interviews real business owners to discuss how they overcame their struggles with digital marketing. This podcast is a must for anyone wanting to enhance their online marketing skills beyond the basics.
Recent episode topics include:
How to Amplify Your E-commerce Business Using Facebook Ads
Why This is Still the Best Time to Be a Facebook Marketer
Cambridge Analytica: What You Need to Know
The Business Boutique is a growing community of women who are making money doing what they love. In each episode, business coach and Ramsey Personality Christy Wright takes a deep dive into topics like marketing, selling, social media and profits. Episodes include featured interviews with top experts in each of these areas. Christy delivers motivating and thought-provoking messages while sharing stories of women who have found success that will inspire you on your journey.
Recent episode topics include:
How to find your passion and grow a business you love
You've got an idea, now what?
How to make a million dollars with your business.
Hosted by Jay Baer (Convince & Convert) and Adam Brown (Salesforce), Social Pros is one of the most well-known marketing podcasts on the planet. The show was recently named the best podcast at the Content Marketing Awards. Each week, the guys invite social media experts employed by the world's biggest brands to discuss their successes, failures, and metrics.
Nowhere else will you hear the behind-the-scenes scoop about companies like Dell, IBM, and ESPN. Uniquely, each episode ends with a series of rapid-fire questions that often generate surprising answers. If you're serious about mastering social media, this is your podcast.
Recent episode topics include:
How The Houston Texans Engage Fans
Exactly What to Say In Social Media
How to Harness The Power of Social So You Never Lose a Customer
Entrepreneur on Fire has interviewed more than 2,000 successful entrepreneurs to date, including Seth Godin, Tim Ferriss, and Tony Robbins. The podcast was created exclusively for small business owners and aims to provide actionable advice for its listeners each episode. Host John Lee Dumas is known for posing thought-provoking questions that shed light on his guest's entrepreneurial highs and lows.
Notably, the podcast won the "Best of iTunes" award for its superb content. If you're looking for a business podcast you can listen to every day, Entrepreneur On Fire is for you — Dumas conducts a fresh interview an impressive seven days a week.
Recent Episode Topics Include:
Income Report for March of 2018! Jeff Walker, SMMW, and so much more.
How to create your IRRESISTIBLE offer with Lisa Sasevich
How Wade Foster connected the world with Zapier
Podcast host Denise Griffitts describes herself as "a happy nerd in stilettos." The long-time virtual assistant industry expert, online business manager, and web developer brings together leaders from a wide range of disciplines each week.
Your Partner In Success features conversations with everyday entrepreneurs who have managed to create sustainable businesses that continue to grow. Griffitts' warm personality has engendered her a loyal following of listeners who tune in every week for practical wisdom, insights, and tips. If you're interested in learning about a wide variety of industries, verticals, and specialties, this may be the podcast for you.
Recent episode topics include:
Joanne Douglas & Alfred Renna: Negotiating New York
What Authors Should Know and Nobody Tells Them
Aaron Levy - Engaging Your Millennials
The Business of Story podcast, hosted by Park Howell, is one of the top brand storytelling podcasts and named among 40 Best Small Business Podcasts in 2017. It will help you reignite within you the one true superpower we all possess - storytelling. Each episode provides the best strategies and secrets from the best content creators, advertising creatives, authors, screenwriters, entrepreneurs, marketers, and brand raconteurs that show you how to make your story marketing stand out. You will learn how to connect with your customers, move them to action, and start creating epic growth for your organization and your people.
Recent episode topics include:
How to be an authentic brand storyteller on social media
How to draw out your genius with visual storytelling
The Seven Stories you Need to Tell to Sell
Best known for penning The 4-Hour Workweek, Tim Ferriss is an unconventional entrepreneur, productivity guru, and author. The New York Times called Ferriss a "cross between Jack Welch and a Buddhist monk."
In this podcast, Ferriss deconstructs world-class performers from a diverse arena of specializations including investing, modeling and chess. His goal? Ask his interview subjects targeted questions that reveal tools, tactics, and tricks listeners can mimic in their own lives. Every episode also features a Q&A where guests answer listener-submitted questions.
Recent Episode Topics Include:
Astro Teller, CEO of X - How to Think 10x Bigger
Inside Out with Katie Couric
Karlie Kloss - Entrepreneur and Supermodel
The $100 MBA is a 10-minute podcast hosted by Omar Zenhom. Each week, Zenhom invites business leaders to share their best lessons, concepts, and examples with his audience. The difference between
The $100MBA and other business podcasts?
Zenhom skips over backstories, skips promotions and eliminates fluff. One listener likened the podcast to astronaut food: "Small, lightweight, easy to consume, and PACKED with nutrition." The podcast received a Best of iTunes award and is quickly becoming a favorite among time-strapped, small business owners.
Recent Episode Topics Include:
5 Ways to Increase Your Email Open & Click Rates
4 Ways to Improve Your Customer Service Today
Q&A Wednesday: What would you do differently if you started your software company all over again?
While most business podcasts focus on success stories, Beyond The To-Do List favors a different approach: It emphasizes failures. Host Erik Fisher invites guests to share their real-life situations of failure, before analyzing to highlight how users can avoid and overcome similar situations.
Most of the content is situated around personal productivity, project management, and goal setting. No matter the topic, Fisher never loses sight of the overall purpose of productivity: Living a meaningful life. If you're looking for insights into how others approach a variety of projects, this podcast is for you.
Recent Episode Topics Include:
Scott Gerber on Networking vs. Connecting in Business Relationships
Lauren Zander on Excuses, Self-Sabotage and Facing the Truth
Phil Rosenthal on Family, Food, and Fun
The Biz Chix is a podcast for ambitious women seeking guidance on how to become more productive entrepreneurs. The programming aims to tackle the unique challenges faced by women in the workforce, providing listeners with both practical tips, strategies, and encouragement.
Host Natalie Eckdahl, MBA, is a coach to high performing women. She is married with three children and is experienced in outsourcing at home and at work. Listeners also have the opportunity to meet Natalie and fellow Biz Chix at her annual leadership conference for women entrepreneurs, BizChix Live.
Recent Episode Topics Include:
Stepping into her Publicity Superpower with Amanda Berlin
Finding Her Niche in Video with Jessica Stansberry
Sales is About Listening with Nikki Rausch
The ultimate portrait and wedding photography business podcast where Andrew Hellmich, interviews successful wedding and portrait photographers and industry experts to reveal their business secrets for your success. PhotoBizX is the photography podcast where you hear answers to the questions you'd love to ask successful wedding and portrait photographer yourself but may never get the chance - or you'd be too afraid to ask. If you dream about having a successful photography business or you're already on your way - you can fast track your progress as you listen to Andrew expose the tactics and strategies of full time photographers in this photography podcast.
Recent Episode Topics Include:
How to make better portrait photography sales
How to get started with Pinterest for Photographers
From Zero to Full Time
Believing in what you are doing, overcoming putting yourself out there, and being consistent when times get tough can be overwhelming for any entrepreneur. The Mind Your Business Podcast by James Wedmore will help you take your business mindset to the next level. James makes you think in a whole new way, so you stop telling yourself "false stories" and you switch to genuinely believing that you are capable and deserving of success. He offers weekly motivation to keep your business headed in the right direction with frequent interviews and captivating storytelling. He is exceptionally relatable and empowers his listeners to take massive action as a digital CEO.
Recent Episode Topics Include:
3X Revenue in 12 Months
How to Live BIG
Big Money FAST with Christian Mickelsen
Marketing Your Business is a podcast dedicated to all things marketing. It's a behind the scenes look at the marketing tactics and strategies that lead to a loyal following, growing sales and a business that gives you (the business owner) more freedom in your everyday life. Each episode will be short, punchy and packed with takeaways to help you get what you have, in front of a lot more people. It's about leveraging your marketing to build a business that is high in profit, low in stress and one that gives you the ability and freedom to have the greatest impact on the world. Join leading online marketing strategist and entrepreneur, Stu McLaren, as he shares what's working selling products online with product launches, online communities, email marketing, social media marketing, content marketing, pay per click marketing and so much more.
Recent Episode Topics Include:
An awesome idea for thank you pages
The Reason your offer isn't converting
The Proper way to use discounts
Through this podcast, you'll hear directly from the Master Coach Brooke Castillo to help you better understand life coaching, the required skills and mindsets, and how we focus on serving the client to get them the results they seek.
Recent Episode Topics Include:
Why you aren't taking action
How to set goals
Vulnerability vs Victim Mentality
This is the podcast for people who know that an extraordinary life is not easy or comfortable. It's so much better than that. Jody Moore, a Certified Life Coach says it like it is. If you're tired of spinning and ready to take control of your relationships, your health, your confidence, your money and your contribution in the world, you're in the right place.
Recent Episode Topics Include:
Being Bold is Being Confident
How to Solve Any Problem
How to Have the Habits you Wish Came Naturally
Want to Improve Your Business and Your Life?
I know all business owners love to improve, stay ahead of their competition, and absolutely maximize their time. Podcasts are the secret to staying up to date on management techniques, productivity tools, and ongoing inspiration. I use it like a professional development resource, one that I can take advantage of while editing or folding laundry! I would love to know what you are listening too lately...which podcast did I miss?